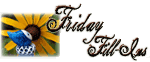 And…here we go!
1. When it's quiet my mind usually have good thoughts.
2. I stayed home for only in 3 days but seems like a month.
3. My heart is aching every time I get hurt.
4. June was filled with sweet memories, hopefully this month also of July.
5. In the town where I was born it's really a good place for vacation.
6. Sharing good ideas is something I really love about my significant other / friend.
7. And as for the weekend, tonight I'm looking forward to finish my soon to expire online tasks, tomorrow my plans include bringing the kids to the mall and Sunday, I want to do my laundry stuff then get rest afterwards!